Genre: Text Adventure
Project Duration: 8 Weeks half time
Team: 3 Programmers, 3 Artists, 2 Level De
signers
Responsibilities:
– User stories– Level Design
– Story Writing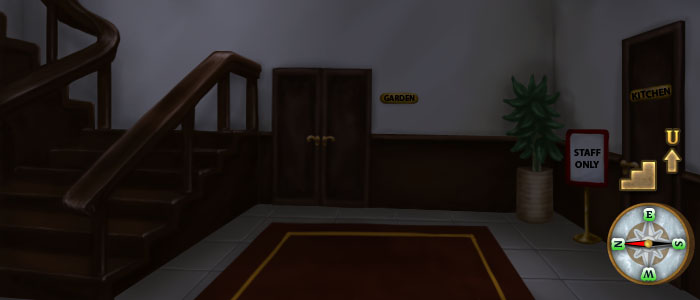 Orange inn was the first game project I was a part of at The Game Assembly and worked as an introduction to working in groups. We made the game with a tool called Alan witch is specifically made for making text adventures in. The player were able to input text and we were able to display text and images.
As a level designer my primary task was to write user stories explaning the different room in the game, what were to be shown in the pictures, the text displayed for the player, what commands the player could input and what those commands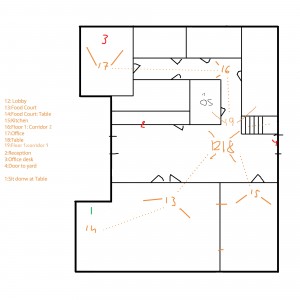 would do. The artists then used the specifications from the user stories and drew the pictures. The pictures were then handed to the programmers to be inplemented along with the text and the commands for the player.
Orange inn was set in a hotel like building and the player could often explore fairly openly. We level designers created overview maps of the building defining were the player could be and what kinds of rooms they were. The numbers were places were the player could be and the lines by the numbers showed were the player was looking and what he could se from a first person view. These maps were used as complement along with the userstories for the artists when drawing the rooms.
The protagonist in the game is an older lady named Abigale who is staying at a hotel called Orange Inn. Gregory is a friend of Abigale who also stays at Orange inn. One morning Abigale finds that Gregory has simply disappeared and the room he stayed in is a mess. while looking for for yor lost friend strange things start to happen and you discover that the hotel that you're staying at isn't all what it seams to be.